Kubota SSV65 Skid Steer Loader
65kva Tow Behind Generator
Self Propelled Post Hole Digger
The Billy Goat AGR1300H Auger is ideal for fence and deck building, sign installation, park & rec departments and rental, offering fatigue-free drilling and easy hole-to-hole transport for one person effortless operation. Combined with simple no-towing-required transport, there's no quicker and easier way to tackle what can be a daunting and time-consuming job. The unit conveniently ramp loads to a 6' truck bed in seconds, and fits compactly with the tailgate closed, without having to remove the bit.
8991 SIDEKICK III PIPE THREADER
The Wheeler-Rex Model 8991 is a full-featured threading machine for 1/4" to 1" pipe. Featuring front and rear chucks, an auto-open auto-oiling notch-type die head, safety auto shut off, larger carriage & cutter handles and a unique one blade reamer.  We stock it with 1/2"-3/4" Dies
Pipe Inspection Camera, 200ft cable
General's lightweight, compact Gen-Eye POD®  pipe inspection camera now feature optional Wi-Fi inside. Wi-Fi lets you use your own tablet or smartphone to record the inspection and send it to your customers on the spot or back to the shop.
The lightweight, compact Gen-Eye POD combines camera, reel and monitor in an all-in-one package. You get a large 7" LCD color monitor in a padded case mounted on a flexible gooseneck that swivels to give you the best viewing angle, wherever you're working.
There's lots more, like an LED Dimmer Control, both AC and DC power cords, 2″ and 3" Trap Skids, and a 512 Hz transmitter. A video out connection lets you record on an external device.
Just grab it and go!
Genie GTH-5519 5500lb Telehandler
The Genie® GTH™-5519 compact telehandler is the perfect choice for tasks both large and small. Easy to maneuver and transport, and convenient to service, it meets the needs of most construction, masonry, landscape and agricultural applications.

Max Lift Capacity    5,500 lb
Max Lift Height    18 ft 10 in
Max Forward Reach    11 ft 3 in
Capacity at Max Height    4,400 lb
Capacity at Max Reach    1,900 lbs
Barreto 30SG Stump Grinder
DIMENSIONS
Weight: 1700 lb.
Height:  49.5″
Length (head to side):  79″
Length (head straight):  98″
Width:  35.5″
WHEEL SPECIFICATIONS
Cutting Wheel:  19.2″ diameter to tooth
Cutting Teeth:  0.750 thick, 16 green teeth
Cutting Depth:  12″
Cutting Height:  32″
Head Swing:  134˚, 99.7″ arc
TRACK SYSTEM
Track Width:  180MM (7.1″)
Total Ground Contact:  472 sq. in.
Generates 1500 psi at 1.4 gpm
Clears drain clogs from 1-1/2" to 3" lines
At only 22 lbs. it is easy enough to carry with you on your drain clog adventures
Heavy duty diamond plated case stands up to the abuse of everyday workloads
Includes 1.2 HP motor with 13 amp w/3-wire Ground Fault Circuit Interrupter (GFCI)
Chariot 3 iScrub 26 Stand-On Scrubber

This model features an 26 inch wide scrub path for making quick work of your scrubbing needs. • Patented Aqua-Mizer system increases productivity while it reduces water and chemical consumption • EcoMode and EcoPlus mode (great for grouted areas) increase productive cleaning time by offering a quieter, less intrusive "day cleaning" mode • Highly productive at 27,639 sq. ft/hr • Optional chemical metering system with adjustable dilution rate • Quiet 66 dBA in EcoMode allows for daytime cleaning • Clear, simple control panel significantly reduces training time and produces more consistent results • Design and size that provides remarkable maneuverability, and best-in-industry 360 degree visibility • Fits easily through a standard door and into any elevator.
The SD64 4x4x4 work platform is the ultimate combination of our trailer mounted and self propelled product ranges.

With full independent suspension and 4 wheel drive, the SD64 4x4x4 work platform can cope with a wide range of working environments and still offers the same impressive reach as the SP64.

Low weight design makes the SD64 4x4x4 work platform economical and quick to transport and 4 wheel steer gives the operator enormous flexibility to maneuver once on site.

Excellent gradeability coupled with a good travel speed allow the SD64 4x4x4 work platform to be positioned and set up quickly, allowing the operator to spend more of their time working.

The extra maneuverability available from the 4 wheel steer option coupled with the special "Turf Tires" make the SD64 4x4x4 work platform ideal for working on sensitive surfaces such as grass.

The 14cf Rotair RampiCar R100 track driven power buggy ideal for the construction or agricultural industry. Over 1 ton of bucket capacity.
Our second largest excavator offered. This machine has zero tail swing and weighs in at 11,500 lbs. It has an angle blade and hyd thumb to make it a versatile machine. We offer pick up options and delivery.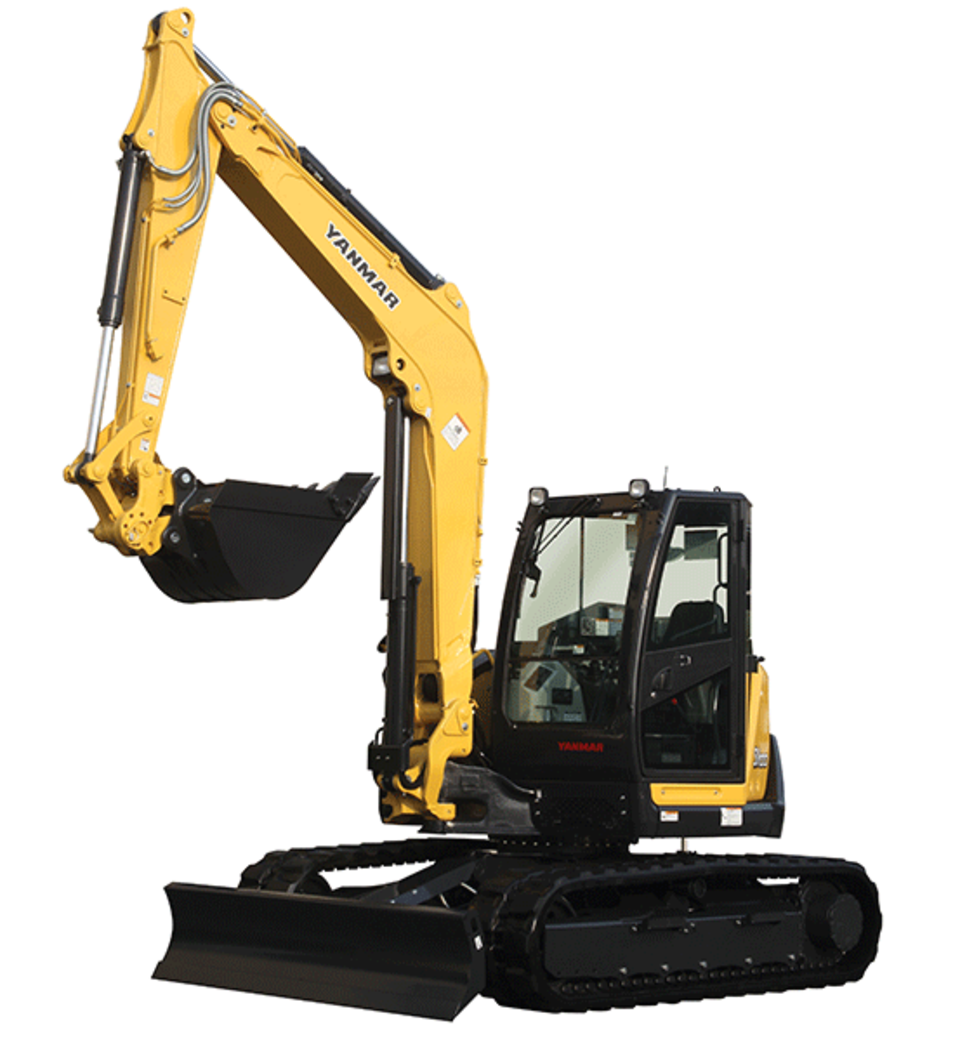 Introducing the biggest excavator that Christopher Equipment carries! We can offer delivery on this item. This item has a hyd thumb and cab, heat, and air.

Weight 21,550 lbs
Horsepower 72 hp
Digging Depth 14'10
Performance: Operating load, 50% of tipping load (lbs): 4,571
Operating load, SAE J818, 35% of tipping load (lbs): 3,200
Tipping load, standard (lbs): 9,143
Bucket breakout (lbs): 7,961
Hydraulics Standard pump flow (gpm): 24.1
Weight
Operating weight (lbs): 11,299
Engine
Gross power (hp): 96.4
Dimensions
Overall length w/bucket (in): 154.6"
Height to top of ROPS (in): 83.3"
Width over tracks (in): 77"
From landscaping to construction, experience maximum versatility in Kubota's B26TLB utility tractor. Loaded with a 24.3 HP Kubota diesel engine, standard 4WD and sloped loader arms and hood designed for improved visibility on the work site, the B26 takes productivity to the next level.